New flowstone related track:Flowmates

Posted:
Mon Jun 17, 2019 3:30 am
So, I've made this new track called flowmates. I used loom and the waves element synths to throw it together. I used some intros by zenhiser and it came out pretty nicely.
I thought the name was cool, I'd had some vocals that said downtown and I'll use them for another track so I chose this new name. Peace out!
BTW, here's the CD Single cover (being sold now):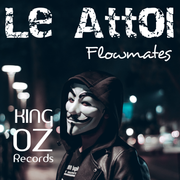 And here's the video