Troll Xmas: Doubler named Hydra

Posted:
Fri Dec 14, 2018 4:52 pm
Originally, this was supposed to be a doubler like the waves one. But I'd found the extent of what it could do was provide extra amplification and digital clipping.
I wanted to create something that really doubled in a smooth way. I created this 5 band, fully functional version of Hydra in over 21 versions. It's a good example of Peak limiting, and some facets of stereo width treatment.
It has a math driven broadcast leveler which removes any essence of transition while editing the audio live.
CCBY, Le Attol, Martin Vicanek, Tor, MvdLee, Nubeat7, Dozius, MyCo, Wassaka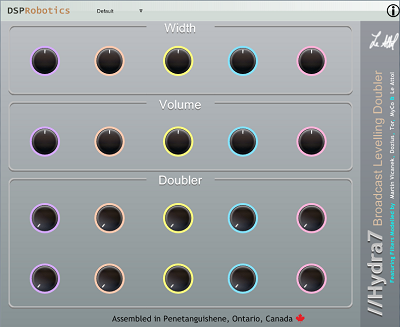 Download:
Hydra - Revision21-60.fsm
-
RC Final, Final Pending Design Tweak
(127.01 KB)
Manual:
Download Manual
Acrobat CS3+ Compatible
(361Kb)
Previous Versions:
Download:
Hydra - Revision21-31.fsm
Release candidate
(107Kb)